On 4 Dec 2021 I voted in the local council elections in Willoughby, NSW. It was also the first time my son was eligible to vote so I was looking at the process in a new light. I was struck by a few experiences and wanted to record these for comparison next time around. I'd also like to hear how it differs from your own experience.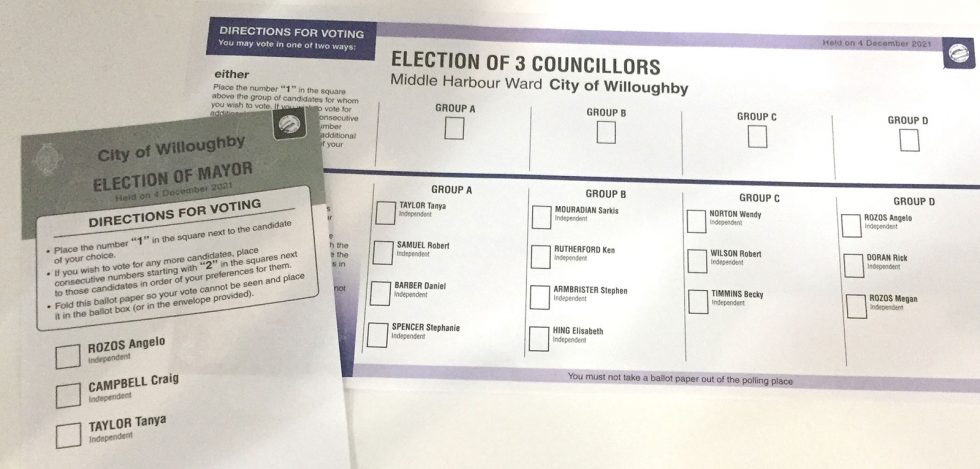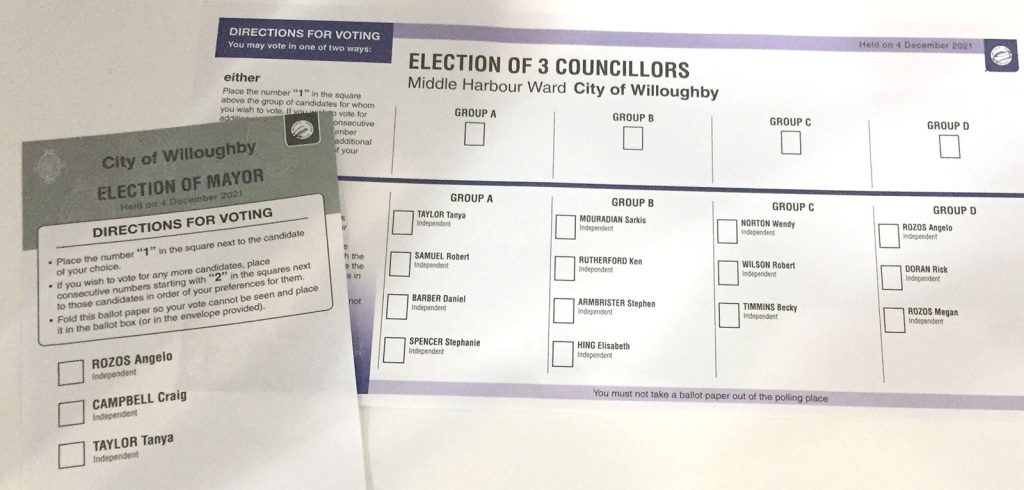 All candidates labelled themselves as Independent, even though some were party members
On the ballot, all candidates for mayor and councillor listed themselves as Independent. I had a hard time reconciling this with some of them being members of the Liberal party. Their party membership didn't appear on the ballot sheet. I only noticed it in two obscure places.
The first was on a commercial website which had done a good job of profiling each candidate 2.5 weeks before the election. Willoughby Living does a very good job of connecting residents with each other via a closed Facebook Group (30,000 members) but I had never visited the website before, and only chanced upon it by reading Facebook posts one evening.
The second was on an pre-election email from grassroots group Voices of North Sydney which I was fortunate to be on the mailing list for.
So it seems that…
very few voters would have been aware of the party affiliation of each candidate,
party membership may be a red herring and there is nothing to be concerned about – at the local level, elected representatives all do the right thing and act in accordance with their perceived notion of the will of the electors,
the Liberal party does a good job of fielding candidates in my neighbourhood, much as successful sports teams draw upon generations of players who come up through the junior ranks.
There are these things called wards
I live in a part of Willoughby called Middle Harbour Ward. The only time I am aware of this is at election time. I had to look up the ward boundaries on the council web page. The map itself is watermarked For development purposes only. This means that a usage fee for the map hasn't been paid (to Google). I can imagine that others might get confused about this and either think that the map is unreliable or is somehow only to be used by property developers. In any event, Australia has a confusing number of electoral regions which makes involvement in democracy a little daunting for the beginner who wants to become more involved.
Councillors are invisible unless you go looking for them
Before the election, some front lawns started sprouting candidate endorsement posters. It strikes me that while campaigning is valuable and expensive, actually being visible and active in the previous years is a better way to win an election. I was aware of the mayor, but had only learned of one of my ward's current councillors by happenstance. Apparently he had been my councillor for nine years already.
Local elections attract the least interest from voters
I consider myself more attuned than most of my neighbours to elections and politics. Nevertheless, it's only by chance that I heard that candidates were to speak at the local bowling club on a Wednesday evening three days before the election. It was our opportunity to hear from and meet the candidates. Each of our three mayoral candidates were given five minutes to speak about what they would do for the community. They spoke well and are clearly capable and committed. It was a warm sunny summer evening. In the room with me were about 50 listeners, of whom I estimate 80% were aged between 40 and 80. Emblematic of our apathy for local matters, in a council of 81,000+ residents, with mandatory voting, this was the turnout for the main pre-election event. Pandemic notwithstanding, the event was not recorded or broadcast.
The outcome
As it turned out, it was a close run thing. After 16 days of vote counting (!), Tanya Taylor is our new mayor, and I wish her and the councillors well. In Middle Harbour Ward, three councillors were elected. One of these – Robert Samuel – was not mentioned in the Willoughby Living article, although I see he was listed under Tanya Taylor on the ballot paper.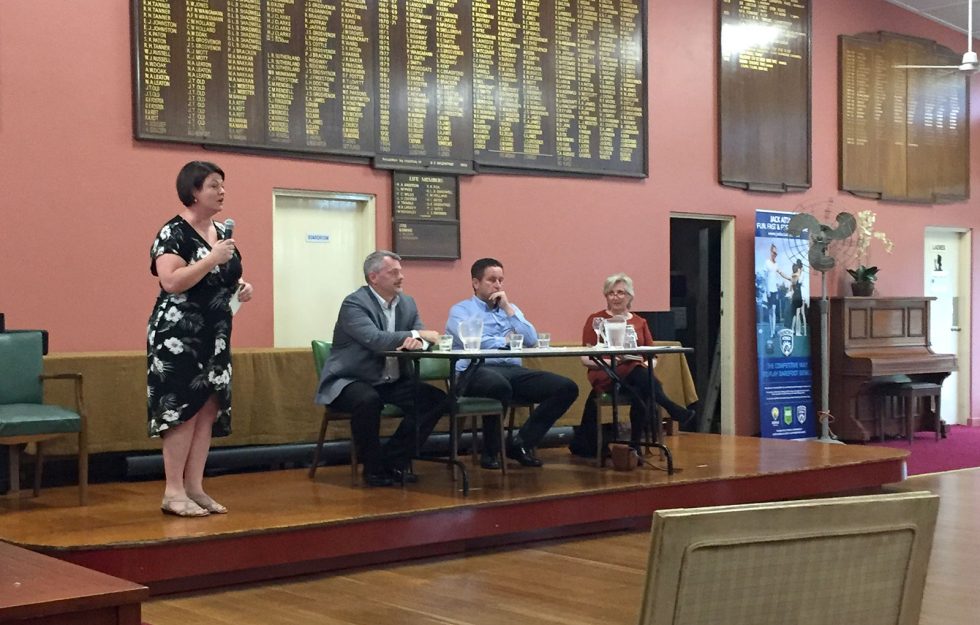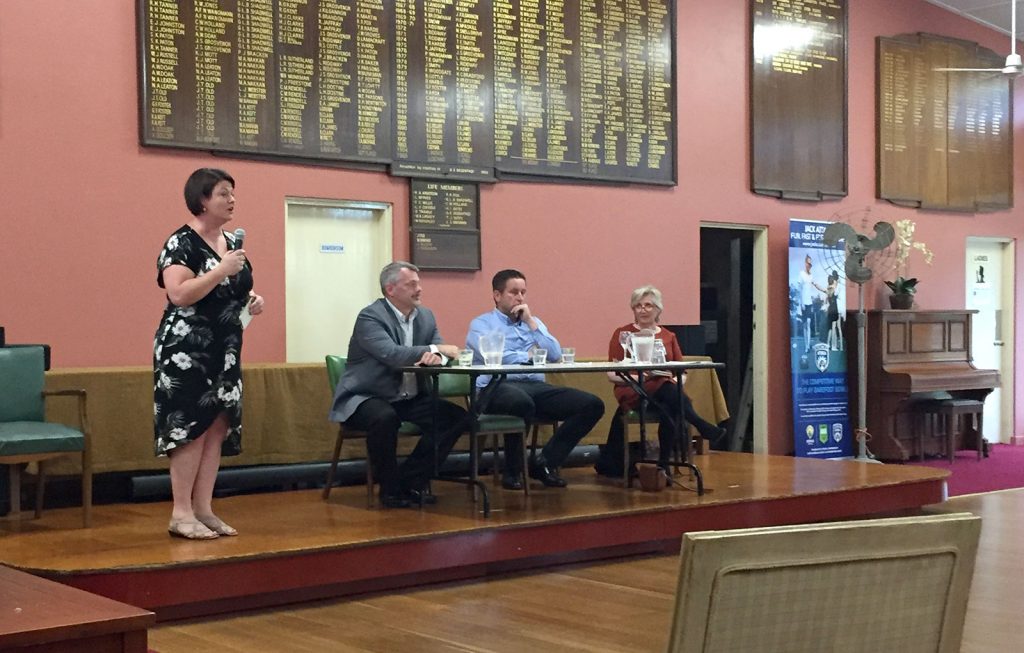 Reflections
I've voted in what I would term a passive manner in previous local elections. Having to explain the process to my son made me realise how poorly informed and engaged I had been.
In future I'd like to see…
councils being more effective at inviting everyone to participate in elections,
councils investing in educating the public about the role and remit of councils and councillors,
councils making sure that all candidates provide brief, comparable manifestos.
I didn't get the impression that there was an adequate expression of community will from young people or those born overseas. More than half of the Willoughby population (although not the enrolled electors) were born overseas, and more than half of the population is aged under 40. This means that a significant section of the tax-paying population in many parts of the country has no influence over election outcomes. This doesn't mean that they can't influence democracy in other ways.
Another factor at play is the limited role which councillors have and their similarly limited salaries. This directly affects the sort of people who stand for election and the amount of time they can devote to making their mark.
If you have impressions and opinions of the local elections in your area, we'd love to hear from you.